Candidates for Laser Hair Removal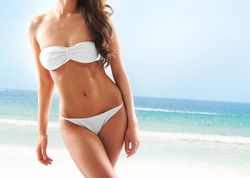 The team at Mesna Plastic Surgery offers both surgical and non-surgical treatments to patients in the greater Minneapolis area. This includes various skin care treatments to remove blemishes and reduce wrinkles as well as laser hair removal to safely leave skin hairless and smooth.
We'd like to consider the basics of laser hair removal right now and who is an ideal candidate for treatment.
How Laser Hair Removal Works
Laser hair removal involves the use of a safe laser light at a specific wavelength. It targets the melanin in the hair follicle without harming the surrounding tissue of the skin. By doing this, hair growth in the treated follicle is stunted, preventing hair growth from occurring.
General Candidacy for Laser Hair Removal
The ideal candidates for laser hair removal are people who have unwanted hair in different parts of their body. They should understand all of the risks and benefits associated with laser hair removal and also understand the nature of the procedure in full and what it entails.
Color of the Hair Can Make a Difference
The laser targets the melanin, which is responsible for giving the hair and skin its pigment. Given this, people with darker hair tend to benefit more from laser hair removal than people with lighter hair.
In general, people with blonde, red, grey, or white hairs tend to experience minimal benefits from laser hair removal. As long as your hair is dark, the hair removal treatment is more likely to be effective.
Not Ideal for Pregnant or Nursing Women
While laser hair removal is safe and effective, most specialists will generally avoid performing the procedure on women who are pregnant or nursing in order to protect the developing child or newborn baby from any potential harm. This is just a means of being as safe as possible.
Location of Hair May Matter
Laser hair removal can be performed on different parts of the body as needed, though sometimes specialists who perform the procedure may have some restrictions in order to be caution. For instance, sometimes laser hair removal may not be recommended for hair between the eyebrows simply to prevent potential complications around the eye area.
Realistic Expectations of Treatment
As effective as laser hair removal is, patients should understand that it is a process and that it takes multiple treatments in order to reduce the appearance and alter the thickness of a patient's hair. This could mean up to six treatments over a month or so initially, with maintenance checkups in order to ensure proper hair removal over a longer amount of time.
Alternatives to Laser Hair Removal
If you are not a candidate for laser hair removal, we can go over alternative treatments that may be ideal, such as professionally supervised electrolysis and waxing, or even at-home options like tweezing, waxing, and shaving. We simply want to help you make the best choices when it comes to enhancing your appearance.
Contact the Team at Mesna Plastic Surgery
For more information about laser hair removal and how it can help you achieve your aesthetic goals, be sure to contact our cosmetic skin care and plastic surgery center today. The entire team here at Mesna Plastic Surgery looks forward to your visit and helping you look your absolute best.
Related to This