Breasts Augmentation to Correct Asymmetry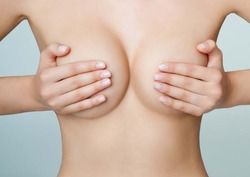 Believe it or not, very few women's breasts are naturally symmetrical. Slight differences on either side are to be expected, just as asymmetry can be found anywhere else on the body. But for women whose breasts are more substantially uneven, this can be a source of embarrassment and even discomfort due to poorly fitting bras. With a breast augmentation, such size or shape discrepancies can be reduced, resulting in increased symmetry and thus confidence.
Patients at our Minneapolis office may experience breast asymmetry to varying degrees, for a variety of reasons. To give our patients the results they desire, we tailor each augmentation procedure to an individual's aesthetic needs.
How Is Asymmetry Caused?
Sometimes, there is no clear, direct reason for why a woman's breasts are uneven. In many cases, this is simply due to genetics and one's hereditary body type. This may be coupled with or aside from any of the additional possible factors:
Hormonal changes during adolescence
Pregnancy
Infection during breastfeeding
Aging
Weight gain
Weight loss
Mastectomy to treat breast cancer
Results from a previous implant procedure
As a result of any of these factors, one breast may be higher or lower than other, it may be shaped differently, or it may be larger. Likewise, the nipples may be different in size or position. No matter the cause, all types of asymmetry can be corrected with the appropriate procedure.
How Can Asymmetry Be Corrected?
There are a number of ways to make breasts more symmetrical, depending on a patient's needs and goals. A breast reduction can be used, for example, to downsize a larger breast to match the other. In other cases, a breast lift can help correct a breast that seems to sag or one in which the nipple faces downward. As one of the more popular procedures for improving symmetry, a breast augmentation can improve the size and shape of one or both breasts, providing a range of options for women of varying body types. When augmentation is used to correct asymmetry, one of the following methods may be implemented:
Differently sized implants:For significant size differences, the most effective option is to use two differently sized implants. Although the implants may have different effects on the shape of each breast, by augmenting both to a comparable size, overall symmetry is improved.
Implants of the same size but different volume: For a more subtle change, implants can be filled to different volumes. This allows identically shaped implants to be used, but with a more appropriate degree of augmentation for each breast. Because silicone implants come pre-filled, this option is only available with saline implants.
Implants of the same size and volume: The larger breasts are, the less noticeable their differences are. For minor size or shape discrepancies between breasts, a regular augmentation with identical implants may be enough to promote symmetry.
Some patients may additionally benefit from both an augmentation and lift, depending on the position of the breasts. To gain a better idea of which augmentation procedure would be right for you, schedule a consultation with your plastic surgeon.
Recovering from Augmentation Surgery
After a breast augmentation, you can expect about a week of recovery time before resuming work and most daily activities. Swelling, bruising, and discomfort are common during this time, becoming most prominent in the first few days and gradually residing afterward. To help reduce these side effects and to encourage proper healing, a compression garment or sports bra should be worn for two to three weeks after surgery. Although infection and similar surgical complications are possible, these risks can be largely avoided by taking the right precautions and following your doctor's post-surgical instructions.
Enhance Your Breasts through Augmentation
Whether you want greater symmetry or more prominent curves, an augmentation can produce satisfying results. For more information on this or other breast procedures by Dr. Mesna, contact our office and schedule an appointment.
Related to This