Tummy Tuck Cost Minneapolis
If you are considering plastic surgery treatment for loose or sagging skin on your midsection, you likely have questions about tummy tuck cost. Minneapolis plastic surgeon Dr. Gregory T. Mesna can help you determine your total treatment cost for abdominoplasty by discussing your unique needs and cosmetic goals with you. Contact Mesna Plastic Surgery today to learn more during a consultation.
The Tummy Tuck Procedure
Patients have different tummy tuck options available to them, each suitable to address different concerns and body types. For both traditional and mini tummy tuck, Dr. Mesna creates an incision low on the abdomen, below the belly button. Through this incision, he accesses the muscles beneath the skin and pulls them taut, smoothing them and removing any excess tissue. The muscles are then secured into their new position using a small number of stitches. Next, Dr. Mesna performs the same procedure with the abdominal skin, redraping it in a smooth, taut alignment. Often, in addition to removing loose skin, Dr. Mesna can eliminate stretch marks around the incision area that may develop from rapid weight gain or loss.
Tummy Tuck Options
The amount of excess skin each patient has will determine the type of tummy tuck treatment that is best for him or her. Patients with skin laxity just below their belly buttons may be good candidates for the mini tummy tuck procedure. This less-invasive version of a traditional tummy tuck involves a shorter incision, and benefits include a shorter recovery time and improved healing.
A traditional tummy tuck extends from one hip bone across the abdomen (below the belly button) to the opposite hip. Using this type of incision, Dr. Mesna redrapes skin and muscle above and below the belly button.
An extended tummy tuck further addresses excess skin on the hips and love handles for patients who have accumulated excess skin in these areas. A full belt lift extends completely around a patient's waist, removing loose skin and tissue from the back of the waist as well as the front.
Individualized Treatment for Enhanced Results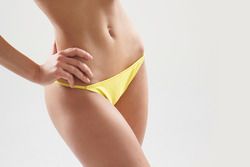 Because the approach to each patient's abdominoplasty is unique, total treatment cost is as well. The size of the treatment area, the surgical technique used, and even the type of anesthesia you receive will all determine how expensive your procedure is. Ultimately, though, we strive to make tummy tuck an affordable body contouring option for each of our patients. We offer a range of flexible financing options and will work closely to find the plan that works best with your budget. You can also rest assured that your investment benefits from the years of experience and training that Dr. Mesna has.
Many patients opt to undergo tummy tuck in conjunction with other plastic surgery procedures, like liposuction or breast lift or augmentation. Combining two treatments at one time can reduce recovery time and, in many cases, the cost of the surgeries.
Learn More About Tummy Tuck Cost
During a consultation, Dr. Mesna can help you determine the best tummy tuck surgery based on your concerns, goals, and budget. Schedule your consultation with him to learn more investing in your self confidence today.